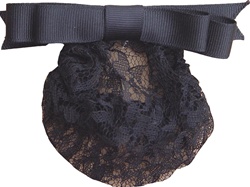 1162 - Black Grosgrain Bribbon - Large Snood  (Made in USA)


This classy bow is just what a rider needs to complete the show look. Attached to a three-inch automatic open barrette. The snood is made of a soft 
black lace fabric. Hand-made in the USA.


Black
Click here to request the most recent pricing list.