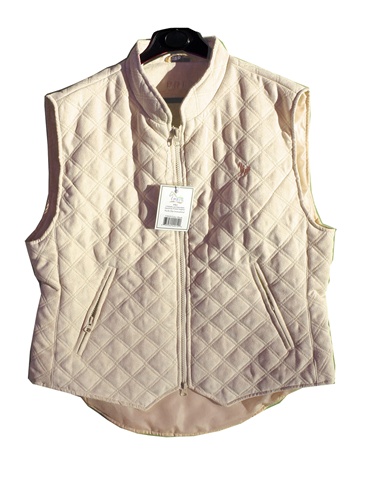 V2059 - Micro-Suede Equestrian Discipline Vest.


This stylish vest has soft micro-suede shell featuring diamond quilting.  The suede is wind- and water-resistant to keep the rider warm and dry, 
with a brushed finish that feels cozy.  Adjustable waist tabs allows the rider to customize for a more feminine profile. 
This vest is a woman's dream because it is also stain-resistant, machine washable, and feels so comfy. Two deep zippered hand pockets.  
Full front zipper. Gorgeous new colors.  Matching Micro-Suede saddle pads are available! 
Sizes: XXS-XXL

Mashine washable.


 

May be customized with beautiful embroidery. Add a Monogram, choose from our 
embroidery designs, or submit your own custom design and we'll embroider it 
to the shirt for you! Embroidery will be on the left chest unless otherwise 
noted. Click here to see embroidery options.

*Please note that custom embroidery may take 2-4 weeks to deliver.

Available in the following color combinations: Click here to see color swatches  

Black, Chocolate, Seafoam, Sky Blue, Champagne, Lavender, Rosa, Blush, Rust, Beige


Click here to request the most recent pricing list.