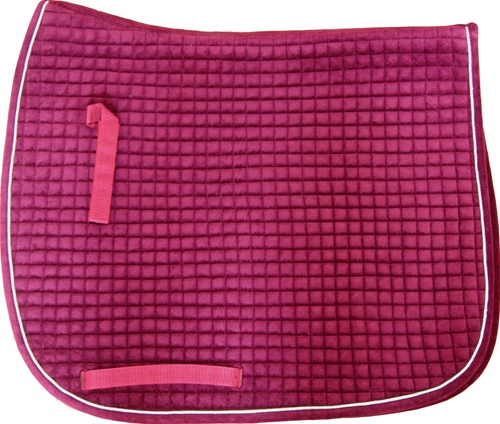 D35301 - Cotton Velvet Dressage Pad, w/ Piping
Elegant velvet show pad with small square quilting. Great texture and appearance, easy care, perfect for show. High wither relief.
Machine wash in cold water and line dry.
Available in all-purpose style. Also available with metallic piping.

Back line length 21", horizontal edge-to-edge: 26", depth 20".

May be customized with beautiful embroidery. Add a Monogram, choose from our embroidery designs, or submit your own custom design and we'll embroider it to the pad for you! Embroidery will be on bottom left of pad unless otherwise specified. Click here to see embroidery options.
Available in the following color combinations: Click here to see color swatches
White: w/white, black;
Black: w/ white, black;
Burgundy: w/hunter, navy;
Brown: w/navy, burgundy;
Cream: w/black, navy;
Hunter: w/burgundy;
Navy: w/hunter;
Olive: w/navy;
Purple: w/black;
Red: w/black;
Smoke: w/navy;
Click here to request the most recent pricing list.